All of our Swymfit Land Classes are included with membership.
Not a member? How about trying our 10-Visit Class Card?
Pilates & Stretch
The goal of Swymfit's Pilates class is to strengthen your mind and body. Pilates is a method of exercise and physical movement designed to enhance core strength, balance, coordination and postural alignment while building lean muscle. The focus is on the core postural muscles which help keep the body balanced and support the spine. By stabilizing the core you can increase flexibility and strength at the same time.
Yoga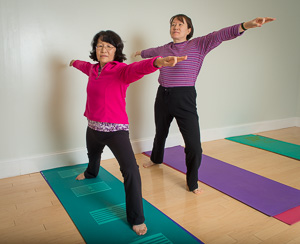 Yoga classes are for all levels and are suitable for everyone including those with past injuries. These classes offer a well-rounded yoga practice including pranayama (breath work), asana (poses), and yoga nidra (deep relaxation). Participants are given variations as well as modifications as needed so that they can practice at their own level and also be challenged to take the next step in their evolution. Yoga classes are 75 minutes in length. Yoga blocks, straps, and pillows are provided. You can bring your own mat or use the mats provided by Swymfit.
Tai Chi
Join one of the area's most dynamic and innovative Tai Chi instructors for a one hour class that gets to the essence of this ancient art of body/mind transformation. Using both classical forma and modern, cutting-edge equipment training, Don will introduce key Tai Chi qualities - rooting, releasing, centering, pulsing, flowing - in a direct and enjoyable workout that does not require memorizing long choreographed movements.
Tai Chi is a profound but also extremely practical art that affords stress reduction, health improvement, rejuvenation, athletic enhancement, and personal growth through a systematic and highly enjoyable practice. Students will learn exercises that can be done anywhere and will continue to benefit the practitioner for many years. Open to all ages and levels of physical fitness.
TRX Training
TRX Suspension Training is a revolutionary method of leveraged body weight exercises. This amazing piece of equipment allows you to perform hundreds of exercises using your body that build strength, endurance, flexibility, balance, and joint stability.
Beginners and TRXperts welcome!